How The Body Works
The Strike of The Mill Feeders
Let me tell you a story of a great mill you carry with you all of the time - deep within you is your stomach.
Your stomach might be thought of as a great mill that works very hard to keep you healthy and strong. This is a very important job. There are a great many body parts that must work perfectly to help your stomach (the mill) do it's job. We shall call them the mill feeders.
One day the mill feeders of the great mill (the stomach) met together to talk over their trials.
The hands said, "We are tired of carrying grist to the door of the greedy mill. We would rather spend all our time painting pictures or writing books."
"We were made for talking and singing," said the lips, "but much of our time has to be spent in taking grist for the mill."
"And we," said the teeth, "give our life to crushing the grist which is brought to the mill. We are wearing out in its service, but what thanks do we get?"
"I have never had a holiday," said the tongue. "I do not mind talking, but I do not like to work for the mill. Three times a day or oftener, I must help the teeth to prepare the grist. I am tired of it."
The gullet said, "My whole life is given up to carrying the grist to the mill. I do not like such work. Let the mill feed itself. It has no business to work us to death."
"Let us all stop work," cried the mill feeders. "We will stop at once;" and so the mill shut down.
Many hours after, the lips said, "How strange that we should not feel like talking now that we have nothing else to do!"
The hands said, "We are too weak to paint or to write. We never felt so tired before."
The tongue became parched and all the mill feeders were unhappy.
More hours passed; then the mill feeders held another meeting. It was a short, quiet, earnest meeting.
"We have been fools," they all said. "The mill was working for us while we were working for it. Our strength came from the grist which we sent to it. We can do nothing without the help of the mill. Let us go to work again. If the mill will only grind for us, we will gladly furnish the grist."



THE END
Aren't all the old fairy tales and fables a lot of fun? You can sure learn a few lessons by heeding these old tales. Have you thought of staging a play using these old fables? Never staged a play before? Oh my, it's so much fun. Kids absolutely love a play. And it's easy. You don't need a formal stage. Some of the best fun has been with a sheet hung on a clothesline and a bunch of eager kids.
All of our plays and skits are adapted from some of the very favorites you've read here on the site.
Check out the "learn more" link to see all the story plays in each collection. I know there's something that will strike your fancy. Purchase with confidence. Paypal makes it easy. Our 30 day money back guarantee makes it stress free. The kids will make it fun!
Acting in a play is creative play at its best. Enjoy!
Our Skits are just as much fun. Just a bit shorter/quicker versions of the longer plays. The "learn more" link is where you'll find all the particulars. Be sure to have a look.
****************************************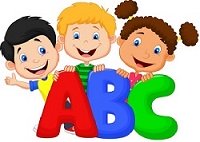 Start Building
Your Home Library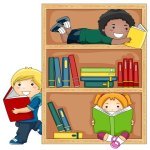 Visit the
Kids Book Shelf
Got Thespians?
You're going to love
our new
NURSERY RHYMES
PLAYSCRIPTS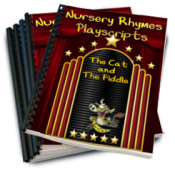 It's a Good Day
For a Play!
What is our Bibliosaurus reading today?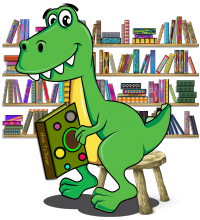 Pretend
Dream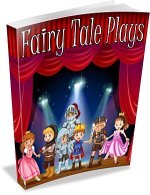 DON'T MISS OUR FUN AND
FASHIONABLE
TEE SHIRT DESIGNS
FOR THE
WHOLE FAMILY