PLAYSCRIPTS
Nursery Rhymes Playscripts
Come One – Come All!
Will you answer the casting call?
I'll be the cat.  I'll bring my fiddle.
You'll be the little dog.  Will you bring your giggle?
The plays have been written.
The stage is being set.
The costumes designed.
But wait!  The cast's not chosen yet?
What's more fun than reading nursery rhymes?
Well, acting the rhymes, of course.
In our newest e-book, Nursery Rhymes Playscripts, we've transformed 14 of the best known nursery rhymes from verse to action!
These well-known nursery rhymes are now action plays.  Now you not only read about Humpty Dumpty and his adventure, but you might pretend to be Humpty Dumpty.  Uh-Oh.  Be very careful.
Can you jump over the moon?  Choose to be the Cow, in the Cat and the Fiddle and it might be possible.
Maybe you'd like to be Miss Muffet.  Do you have a tuffet?
Polly put the kettle on to prepare a pot of tea.
The plates and cups are set and on stage.
Which participant might you be?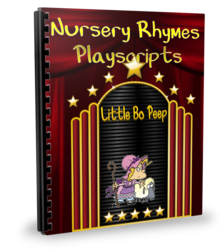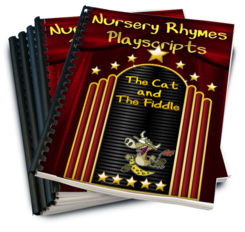 Highlights of the 14 Plays you'll receive:
For Want of a Nail  - This is a 2 act play with a cast of 4.  The use of extras or audience participation adds to the fun!
The Cat and The Fiddle – A 1 act play with lots of dialogue for a cast of 5.
Lucy Locket – Here's a small cast of 3 in 1 act.  A really good skit to begin with.
Polly Put the Kettle On – This play is a nice length.  And for a cast of 6 in only 1 act, it gives the participants lots of good dialogue. 
Goosey Gander  - A classic 2 act play for a cast of 6. 
Oranges and Lemons - 1 act with a cast of 7 (plus the ability for extras)
Ride a Cock-Horse  - Here's a nice size play – 3 acts offer the cast of 12 quite a good thespian opportunity.  Again, the need for extras adds to more fun participation.
Little Miss Muffet - A small cast of 3 in 2 acts.  Very entertaining!
Humpty Dumpty  - A 1 act play for a cast of 6, plus extras. 
Hickory Dickory Dock  - Here's a short 1 act play for a cast of 4 with a Huge message!  Learn the valuable lesson of listening to Mother's directions.    
Little Bo Peep – This 3 act play with a cast of 2 teaches a valuable lesson.  Small but powerful.
Sing a Song 'O Sixpence – With a cast of 8 – in 5 acts.  Lots of dialogue.  Loads of fun.
The Black Sheep – 2 acts for the cast of 6.  Plus, the added fun of audience participation. 
Three Little Kittens  - This 1 act play with a cast of 4 is a dramatization of the poem of the same name.  We all know it.  But have you ever seen it in action?  Too Cute!
Several of our plays provide the extra benefit of teachable moments.  A moral lesson, if you will.
Lucy Locket is a great play to begin a conversation on behavior and attitude. 
Goosey Gander leaves you with a good place to open discussions on human and animal behaviors. 
Humpty Dumpty opens the pathways for much discussion on behavior.  You'll see. 
And in Hickory Dickory Dock they will learn the valuable lesson of listening to one's mother.  Not to mention the need to discuss what is "naughty" behavior. 
Little Bo Peep teaches the valuable lesson of observation skills and paying attention. 
Even a play as simple as The Three Little Kittens teaches the positive message of cause and effect quite nicely. 
Hours of Creative Fun.
Today is a good day!
For a play.
Nursery Rhymes Playscripts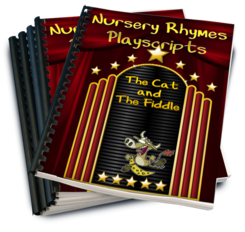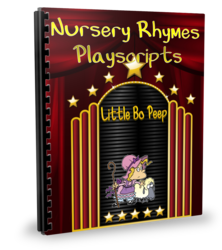 $10.00
You will receive all 14 playscripts right away.  Use as you wish.  Now or later.  Today, tomorrow, next week, next year.  They're yours.  Just download your pdf when you get your link.  That's it.   Then print and use as you need them.  Print as many copies as you need for each production.  This is a great tool for learning script lines.   

---
Do you have a budding actor or actress?
Looking for some creative interactive activities for bored kids?
Having a party?
Plays are a great tool for fund raising ventures. Very creative way to earn money for your organization.

Maybe your classroom needs some new and innovative hands-on lessons?
Or have you always wanted to try your hand at a puppet show.  Literally!
Can you think of a better way to enjoy our ever popular nursery rhymes classics?

Nursery Rhymes Playscripts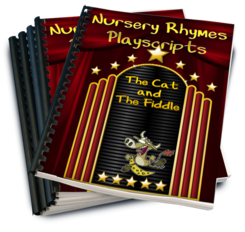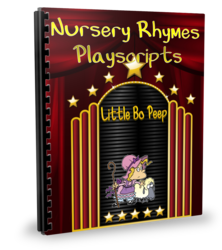 $10.00
The power of creative play is awe-inspiring.
What parent doesn't appreciate a child's imagination in action?

A creative and fun way to spend those lazy summer hours or a gloomy, rainy day indoors.
Teachers?   How much classroom fun might these plays provide?
Nursery Rhymes Playscripts is not available in stores.
It's only available online and only through www.nursery-rhymes-fun.com
Great for . . .
Nursery Rhymes Playscripts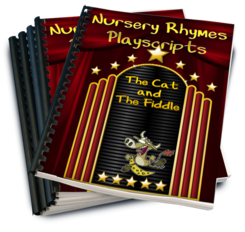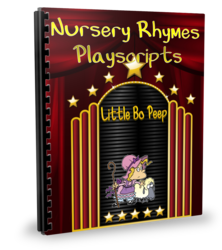 $10.00
| | |
| --- | --- |
| Plus, take a look. | |
Your e-books come with an . . .

Unconditional 30-Day Money-Back Guarantee

Nursery Rhymes Playscripts E Book is totally risk free to try. Nothing to lose. If it isn't everything I said it is, then return it for a full refund.
You get instant access to your copy of Nursery Rhymes Playscripts in under 10 minutes through a safe and secure transaction. Right after your order is approved (usually in seconds), you will be able to download immediately. It's that easy. And, with PayPal you know it's secure. Best of all, you don't have to wait for days or even weeks until the mailman brings your package. So, that means you save shipping costs too!
You will need Adobe Acrobat Reader to view your PDF file. If you don't have this installed on your computer, then you can download it for free.
Nursery Rhymes Playscripts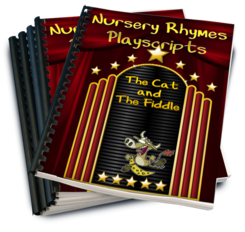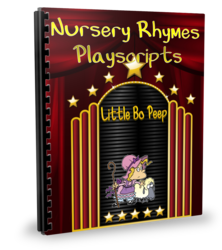 $10.00
Return to Nursery Rhymes Fun Home