Expand Your Childrens Learning Opportunities Through Creative Play
How does creative play factor into your childrens learning?
How important is play in relation to learning? Are we at risk of turning play into work? For us and for our kids.

How did we turn "play" into an expensive and stressful endeavor? No wonder kids just want to sit and zone out in front of the television or a video game. At least Mom or Dad isn't trying to make them do something.
The idea of play is to relax, have fun, laugh, imagine, create, enjoy yourself. Without demands and without rigid structuring. Our kids' schedules are as stressful and demanding as are ours. Maybe we should re-think. Relax.
Creative play encourages your child to use their imaginations. They invent or create to their hearts content. Creative play encourages a healthy mental and emotional development. Your child is the director. He is in charge. Don't get me wrong, rules are necessary in life. But, there's a time and place. In structured play? Yes. In creative play? Let them make their own rules.
Need some ideas?

How about a little role playing for real creative fun. Our FAIRY TALE PLAYS E-BOOK offers hours of creative and fun role play. The skits are derived from favorite fairy tales where the little actors personify a prince or princess. A good fairy or a bad fairy. A knight, a bear, or a gingerbread man. Lots of choices for fun role play.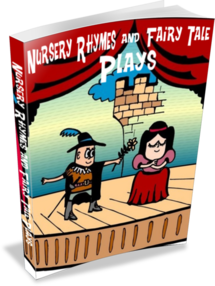 It's always a Good Day For a Play!




For some good old, fashioned fun be sure to check our collection of Old Time Games for Children or the Nursery Rhyme Games.

Of course, you can never go wrong with the thought provoking What if Game.
Encourage your child's room as a haven, where an imagination can run wild all on its own. A place where pirates and monsters roam. Where you'll find tea parties with bears and rabbits or picnics with elves and gnomes.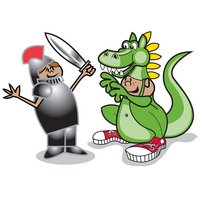 Where fantasy drawings hug every wall. Whatever brews your child's imagination - let that happen in their room - leave the television in another room. If not, it will always be the default.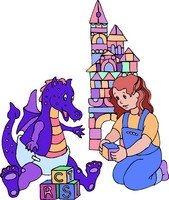 When children are allowed to rely on themselves at playtime — improvising, creating, making up stories and games, they're actually developing critical cognitive skills.
Let their creative spirit fly!
An active imagination is the only prerequisite.
It turns out that psychologists now agree that good old fashioned play was good for us. Wow!
Experts acknowledge that the lack of creative play is having negative consequences on childrens learning overall.
Creative play develops imagination and creativity.
The understanding of principles of math and science, as well as social and emotional development all flow from creativity and imagination when we're young.
The rise in obesity and overweight children is a direct link to the lack of creative play which is, more often than not, active play, as well.
Your imagination is a muscle - use it or lose it.
Many schools now are eliminating recess. Not enough time, they say. Test scores and curriculum needs are so demanding. So sad!
In reality, there is not enough time not to have recess.
Studies have shown that childrens learning is enhanced when they have a break. Don't we all? Everyone's mind needs a chance to regroup. Even the mind of a young child - especially the mind of a young child.

There is no right or wrong way to play. Play is improvisational,
free spirited, creative and spontaneous. Like dreaming, - chasing buffalo one minute or soaring over roof tops on fairy wings the next.
It doesn't have to make sense - it just has to be.
Let's Play! ...that's what a youngster shouts when they are ready for fun!
Body Power + Brain Power = BRILLIANCE
Do you have a creative play idea to share? I'm sure others would love to hear.
Play - Frolic - Run - Jump - Laugh - Create - Invent - Explore - Dream - Enjoy - Learn - Grow.
What ever you call it. Let's do it! Let's have some fun.

To Nursery Rhymes Fun Home from Childrens Learning Page

Childrens Learning Enhanced
Creative Play Expands Your Childrens Learning Experience