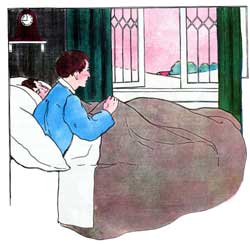 ROBIN HOOD AND LITTLE JOHN
Robin Hood, Robin Hood,
Is in the mickle wood!
Little John, Little John,
He to the town is gone.

Robin Hood, Robin Hood,
Telling his beads,
All in the greenwood
Among the green weeds.

Little John, Little John,
If he comes no more,
Robin Hood, Robin Hood,
We shall fret full sore!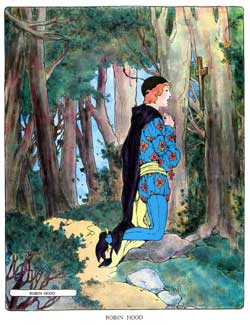 ROBIN REDBREAST
Little Robin Redbreast sat upon a tree,
Up went Pussy-Cat, down went he,
Down came Pussy-Cat, away Robin ran,
Says little Robin Redbreast: "Catch me if you can!"

Little Robin Redbreast jumped upon a spade,
Pussy-Cat jumped after him, and then he was afraid.
Little Robin chirped and sang, and what did Pussy say?
Pussy-Cat said: "Mew, mew, mew," and Robin flew away.







ROBIN-A-BOBBIN
Robin-a-Bobbin
Bent his bow,
Shot at a pigeon,
And killed a crow.


A robin and a robin's son
Once went to town to buy a bun.
They couldn't decide on plum or plain,
And so they went back home again.


Rock-a-bye, baby, thy cradle is green;
Father's a nobleman, mother's a queen;
And Betty's a lady, and wears a gold ring;
And Johnny's a drummer, and drums for the king.





More Mother Goose Nursery Rhymes





What's more fun than reading nursery rhymes?

Well, acting the rhymes, of course.

In our newest e-book, Nursery Rhymes Playscripts, we've transformed some of the best known nursery rhymes from verse to action!

These well-known nursery rhymes are now action plays. Now you not only read about Humpty Dumpty and his adventure, but you might pretend to be Humpty Dumpty. Uh-Oh. Be very careful.

Can you jump over the moon? Choose to be the Cow, in the Cat and the Fiddle and it might be possible.

Maybe you'd like to be Miss Muffet. Do you have a tuffet?

Our Nursery Rhymes Playscripts are just the ticket! Get your copy and have some fun acting out our very favorite nursery rhymes with your friends and family.

It's a great day for a play!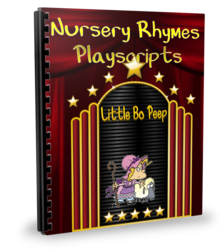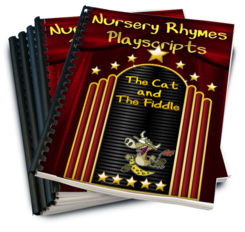 Learn More Here
Including Goosey Goosey Gander, Lucy Locket, Three Little Kittens, and more favorites!


To Nursery Rhymes Fun Home from Robin Redbreast



Rain Rain, Ride Away, Ring O Roses, The Robin, Robin and Richard, Robin Hood and Little John,, The Robins, Robin a Bobbin, Rock A Bye Baby