Ride a Cock Horse
Ride a cock horse
To Banbury Cross,
To see little Jenny
Upon a white horse.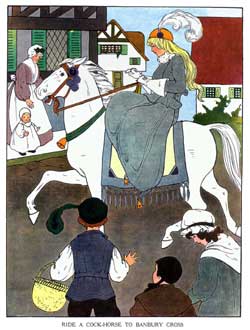 Rings on her fingers,
Bells on her toes,
She shall have music
Wherever she goes.





What's more fun than reading nursery rhymes?
Well, acting the rhymes, of course.
In our newest e-book, Nursery Rhymes Playscripts, we've transformed some of the best known nursery rhymes from verse to action!
These well-known nursery rhymes are now action plays. Now you not only read about Humpty Dumpty and his adventure, but you might pretend to be Humpty Dumpty. Uh-Oh. Be very careful.
Can you jump over the moon? Choose to be the Cow, in the Cat and the Fiddle and it might be possible.
Maybe you'd like to be Miss Muffet. Do you have a tuffet?
Our Nursery Rhymes Playscripts are just the ticket! Get your copy and have some fun acting out our very favorite nursery rhymes with your friends and family.
It's a great day for a play!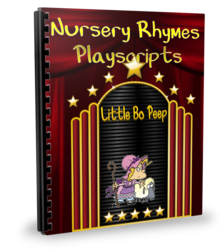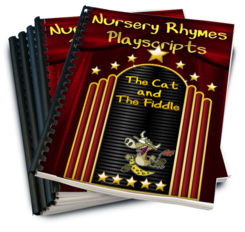 Learn More Here
Including Ride A Cock Horse (Banbury Cross), Goosey Goosey Gander, Lucy Locket, Three Little Kittens, and more favorites!