Rhyming Stories Featuring
Sisters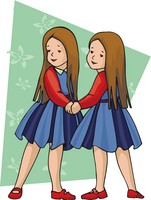 Little Mary called Emma, who was just skipping by,
She said, "little sister, can you tell me why
You are loved so much better by people than I?
My face is as clean, my hair shines like gold,
And my walk and my dress are as nice to behold,
Yet nobody likes me for that, so I am told".
"Ah", said Emma, "this is all very true,
But if half as much mischief were I to do,
Indeed people would love me no better than you.
Your face is as clean, and your hair is as bright,
Your frock is as tidy, your hands are as white,
But there's one thing, dear Mary, you seldom do right.
If Mama bids less noise to be made when we play,
Or desires you be still whilst your lessons you say,
You never do try these commands to obey.
And when people are talking, you never care how
You interrupt what they're saying, which is ill bred, you know,
And papa has so oft bid us not to do so.
You take grandmama's pies, you climb on her chair,
You lay hold of the gowns as you go up the stair,
And you gather the flowers that on the beds are.
Now I am no taller, nor bigger, you see,
Yet nobody here is angry with me,
Because I have learned so obedient to be.
I mind what mama says, whatever it is,
And when people are busy take care not to tease,
But endeavor, as much as I'm able, to please."
Then said Mary to Emma, "Oh, now do I see
Why you are more loved, and more happy than me.
And we're like mama's tale of the Wasp and the Bee.
I remember it said, little children beware,
Because like the Wasp if ill behaved you are,
You may never be loved, if you're ever so fair."