One Two Buckle My Shoe
Proving that nursery rhymes and children everywhere are universally similar, here is the same rhyme in four different languages.
*****************
One, two, buckle my shoe,
Three, four, open the door,
Five, six, pick up the sticks,
Seven, eight, lay them straight,
Nine, ten, a good fat hen,
Eleven, twel', bake it well,
Thirteen, fourteen, maids a-courting,
Fifteen, sixteen, maids a-kissing,
Seventeen, eighteen, maids a-waiting,
Nineteen, twenty, my stomach's empty.
*****************
In Germany:
1, 2, Polizei,
3, 4, Offizier,
5, 6, Alte Hex,
7, 8, Gute Nacht,
9, 10, Auf Wiedersehen,
11, 12, Junge Wölf,
13, 14, Blaue Schürzen,
15, 16, Alte Hexen,
17, 18, Mädle Wachsen,
19, 20, Gott Verdanzig.
*****************
In France, as follows:
Un, deux, trois, Tu ne l'es pas,
Quatre, cinq, six, Va t'en d'ici.
*****************
In Italy a form goes:
Pan uno,
pan duo,
Pan tre,
pan quattro,
Pan cinque,
pan sei,
Pan sette,
pan otto,
Pancotto!
*****************
And, this gives one the thought that we may in fact find similar versions, all revealing a common origin, in the languages of many more countries.






What's more fun than reading nursery rhymes?
Well, acting the rhymes, of course.
In our newest e-book, Nursery Rhymes Playscripts, we've transformed some of the best known nursery rhymes from verse to action!
These well-known nursery rhymes are now action plays. Now you not only read about Humpty Dumpty and his adventure, but you might pretend to be Humpty Dumpty. Uh-Oh. Be very careful.
Can you jump over the moon? Choose to be the Cow, in the Cat and the Fiddle and it might be possible.
Maybe you'd like to be Miss Muffet. Do you have a tuffet?
Our Nursery Rhymes Playscripts are just the ticket! Get your copy and have some fun acting out our very favorite nursery rhymes with your friends and family.
It's a great day for a play!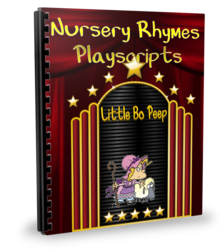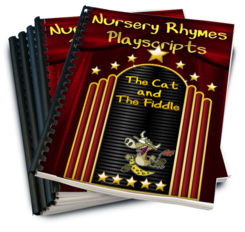 Learn More Here
Including Goosey Goosey Gander, Lucy Locket, Three Little Kittens, and more favorites!


From One Two Buckle My Shoe to Mother Goose Nursery Rhymes


From One Two Buckle My Shoe to Nursery Rhymes Fun Home