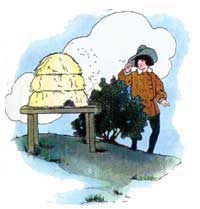 Lives in winter,
Dies in summer,
And grows with its roots upward!




Around the green gravel the grass grows green,
And all the pretty maids are plain to be seen;
Wash them with milk, and clothe them with silk,
And write their names with a pen and ink.

A, B, C, and D,
Pray, playmates, agree.
E, F, and G,
Well, so it shall be.
J, K, and L,
In peace we will dwell.
M, N, and O,
To play let us go.
P, Q, R, and S,
Love may we possess.
W, X, and Y,
Will not quarrel or lie.
Z, and do understand,
Go to school at command.




As I was going along, along,
A-singing a comical song, song, song,
The lane that I went was so long, long, long,
And the song that I sang was so long, long, long,
And so I went singing along.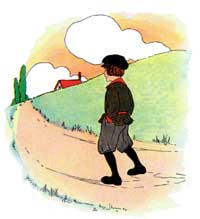 Back to Mother Goose Classics Page



To Nursery Rhymes Fun Home from List of Nursery Rhymes
Who is the most famous creator of kids poems? Of course, that would most certainly be Mother Goose? Kids poems were her genre and she will be forever remembered for her contribution to the world of poetry for kids. The following quote comes from Mother Goose herself.
HEAR WHAT MA'AM GOOSE SAYS!
"My dear little Blossoms, there are now in this world, and always will be, a great many grannies besides myself, both in petticoats and pantaloons, some a deal younger to be sure; but all monstrous wise, and of my own family name.
These old women, who never had chick nor child of their own, but who always know how to bring up other people's children, will tell you with very long faces, that my enchanting, quieting, soothing volume, my all-sufficient anodyne for cross, peevish, won't-be-comforted little bairns, ought to be laid aside for more learned books, such as THEY could select and publish.
Fudge! I tell you that all their batterings can't deface my beauties, nor their wise prattlings equal my wiser prattlings; and all imitators of my refreshing songs might as well write a new Billy Shakespeare as another Mother Goose—we two great poets were born together, and we shall go out of the world together.
No, no my Melodies will never die,
While nurses sing, or babies cry."
List of Nursery Rhymes * List of Nursery Rhymes