Gardening Poems and Garden Lore
Gardening Poems for Gardening Kids



Every child who has gardening tools,
Should learn by heart these gardening rules.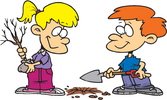 He who owns a gardening spade,
Should be able to dig the depth of its blade.
He who owns a gardening hoe,
Must be sure how he means his strokes to go.
But he who owns a gardening fork,
May make it do all the other tools' work.
Though to shift, or to pot, or annex what you can,
A trowel's the tool for child, woman, or man.

'Twas a bird that sits in the sycamore tree,
Who sang these gardening songs to me.


More Gardening Poems About Flowers




An introduction to the world of gardening through poems dedicated specifically to children.