Children's Garden Poems
The Spring is come, the violet's gone,
The first born child of the early sun.

With us, she is but a winter's flower;
The snow on the hills cannot blast her bower,
And she lifts up her dewy eye of blue
To the youngest sky of the selfsame hue.
And when the Spring comes, with her host
Of flowers, that flower beloved the most
Shrinks from the crowd that may confuse
Her heavenly odour, and virgin hues.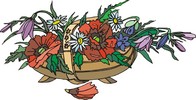 Pluck the others, but still remember
Their herald out of dim December,
The morning star of all the flowers,
The pledge of daylight's lengthened hours,
Nor, midst the roses, e'er forget
The lovely, virgin violet.