The Forget Me Not
The Forget Me Not.

There is a sweet, a lovely flower,
Tinged deep with faith's unchanging hue,
Pure as the ether in its hour
Of loveliest and serenest blue.

The streamlet's gentle side it seeks,
The silent fount, the shaded grot;
And sweetly to the heart it speaks
Forget-me-not, forget-me-not.

See the flowers, how they grow;
Hear the winds that gently blow.
Bird and insect, flower and tree,

Know they must not idle be;
Each has something it must do
Little children, so must you.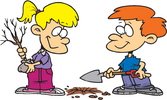 Oh, this sweet and lovely flower
Forget-me-not, forget-me-not.


From Forget Me Not to More Poems About Flowers