Christmas Plays
THE NORTH POLE REBELLION
It's Christmas Eve.  Brightly wrapped packages are being hoisted and settled onto the sleigh as the Reindeer prance and paw in anticipation. Santa is ready.   Mrs. Santa sits beside him, watching him enjoy a final cup of hot cocoa before he slips into his heavy suit and makes his way to the barn. Activity in Santa's Workshop is at a frenzy.   The elves scurry this way and that making sure every toy is wrapped, labeled, loaded and ready to go.  The list has been checked once, twice, and once more for good measure.  It's almost lift-off time.  T minus 30 and counting. 
What's that?  A commotion in Gift Wrapping?  "Refusal to Cooperate" whispers pass through the growing crowd.  Rebellion?  Not possible!  Never, in the history of Santa's Toy Shoppe, have any toys ever declined their mission.  Never have we experienced a refusal to cooperate.  A rebellion, the likes of which has never happened in the history of Santa's Toy Shoppe is, in fact, happening.  What now?  Santa must be told.  And, Brownie, Chief Elf in Charge, is tasked to deliver this disturbing news to Santa. 
The North Pole Rebellion is a wonderful holiday story about a group of toys who decide they just might rather live at the North Pole instead of going out into the world.   They intend to stand their ground and convince Santa.  Their methods and reasoning will most certainly resonate. Will they work?
The North Pole Rebellion story play is performed in one act with a cast of 15.  Extra non-verbal parts are available if there are extra participants. 
The holiday festivities are the perfect time to introduce children to dramatizations.  Christmas Pageants have historically been performed as a way to introduce children to the world of drama.  Acting in a play requires team work.   The value of learning to work as a team cannot be overlooked as one of life's valuable lessons.  Acting in a holiday play is a great time to introduce your budding thespians to this venue.  Another highly documented benefit to a child's social growth is participating in role play.  Acting in a play is role play.
A play is the perfect creative venue for hands-on learning, fundraising, future career goals or just plain holiday fun.  Whichever your motivation, whether spectator or actor, seasoned or amateur, there's something for all to enjoy.  Your plays will come to you in pdf format.  Easily downloaded and ready to print individually.  
Will the toys win?  Will they stay and live forever with Santa and Mrs. Santa at the North Pole?  Or will they find their forever children and agree to leave the North Pole?  Let's perform a play!
The North Pole Rebellion


A Children's Christmas Play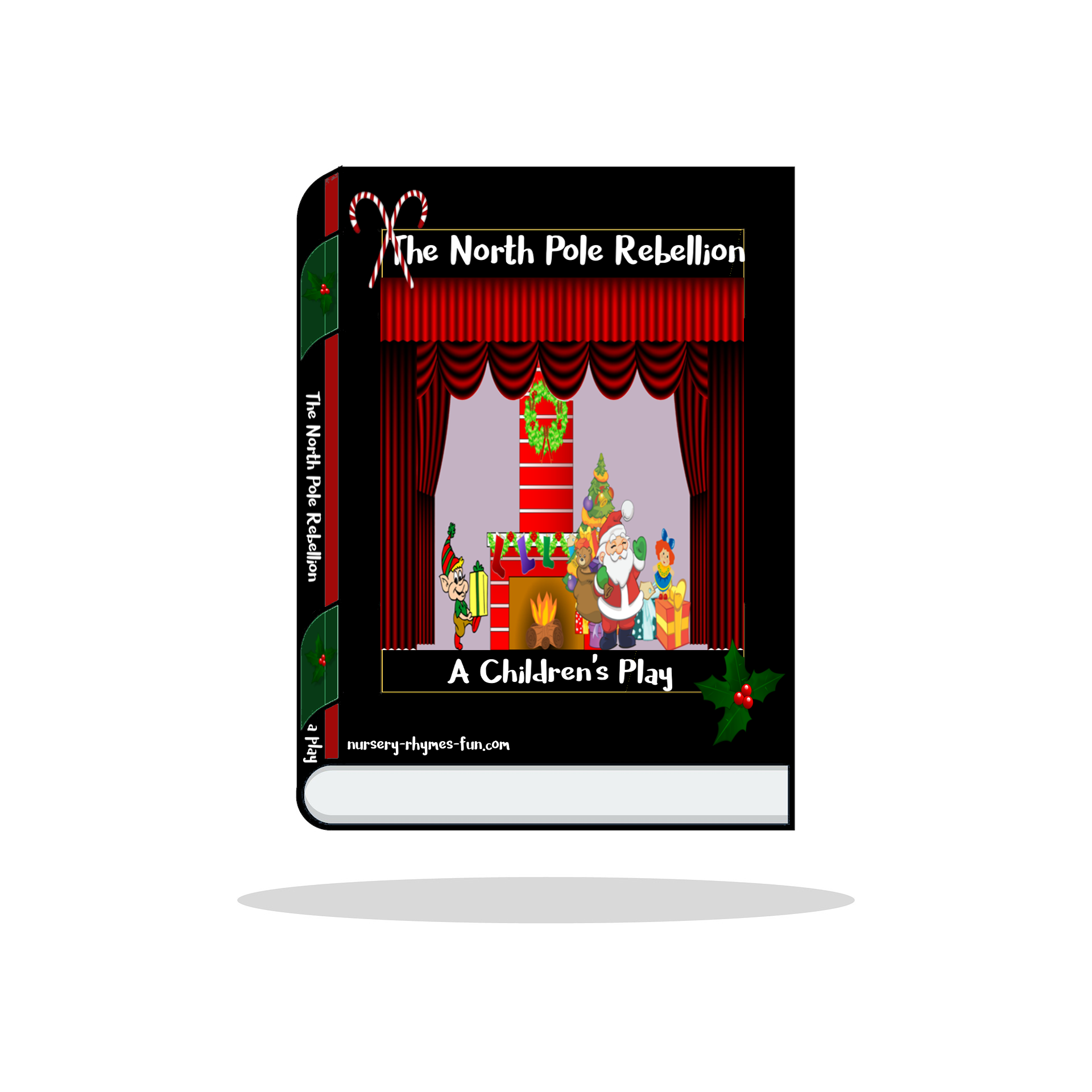 $10.00
| | |
| --- | --- |
| Risk Free Guarantee | |
Your e-books come with an . . . 

Unconditional 30-Day Money-Back Guarantee

The North Pole Rebellion playscript is totally risk free. Nothing to lose. If it isn't everything I said it is, then return it for a full refund.
You get instant access to your copy of The North Pole Rebellion in under 10 minutes through a safe and secure transaction. Right after your order is approved (usually in seconds), you will be able to download immediately. It's that easy. And, with PayPal you know it's secure.
You will need Adobe Acrobat Reader to view your PDF file. If you don't have this installed on your computer, then you can download it for free.
You will receive your playscript right away.  Use as you wish.  As often as you wish. Just download your pdf when you get your link.  That's it.   Then print and use as you need them.  Print as many copies as you need for each production.  
The North Pole Rebellion is not available in stores.  You can only purchase here at nursery-rhymes-fun.com 
The holidays are coming.  Get your copy today.  Holiday fun awaits.