A Childrens Poem Tribute
Yellow Dog
This poem is dedicated to my Grandmother. She was always telling stories and poems. I have no way of knowing if this poem is of her creation or one from her childhood, but I hold in my hand an old raggedy, yellow piece of paper with her handwriting which she wrote to me a very long time ago.
So with honor - To Grammy:
I've got a yellow dog working hard,
Stealing chickens from my neighbor's yard.
Every day I know he'll bring something for my dinner.
So I never do a thing.
My little yellow dog is as skinny as a rail.
He's got fleas all over his tail.
And every time his tail goes flop,
The fleas on the bottom go over the top!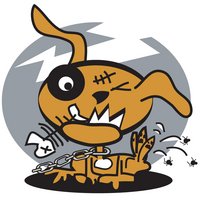 From Childrens Poem Yellow Dog to More Kids Poems page

From Childrens Poem Yellow Dog to Nursery Rhymes Fun Home