Animal Stories
Presents
The Tale of The Muley Cow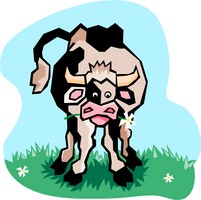 A few of the farmyard folk were a bit jealous of the Muley Cow.
The sassy red lady that stood on one side of her, in the barn, often said that Johnnie Green was wasting too many goodies on her.
It seemed as if he never entered the cow barn without bringing some tidbit for old Muley, as her neighbors called her—behind her back. If it wasn't a potato that Johnnie fished out of his pocket it might be an apple or a carrot, or maybe a piece of pumpkin, or turnip, or beet.

At such times the sassy red cow would cast a knowing look at the little brown cow on the other side of the Muley Cow, as if to say, "There! He's at it again! Did you ever, in all your life?"
And the brown cow would twist her head as far around as her stanchion would let her, and stretch her lean neck to the utmost, hoping for a share of the treat. She often told the red cow, privately, that the delicious smell of such things as potatoes and apples was enough to drive anybody frantic.


They had agreed, long before, that it was very unpleasant to be stabled beside Johnnie Green's favorite. That was what they called the Muley Cow—"the Favorite" (when they didn't speak of her as "old Muley"). But when they spoke to her they were as polite as you please, because she was the oldest cow on the farm and was an aunt to both of them.
Whenever Johnnie Green gave some dainty morsel to the Muley Cow he first cut it into medium sized pieces with his jackknife. There was a good reason why he did that, as you will learn later.
Merely feeding good things to her was not the only way in which Johnnie showed that the Muley Cow was his favorite. Next to the choice mouthfuls that he brought her, she liked to have him curry and brush her, just as he curried and brushed the ancient horse, Ebenezer. Especially in the winter, when she stood long hours in the barn with her neck in a stanchion, did the Muley Cow enjoy Johnnie's attentions with currycomb and brush.
In the summer, when she spent every day in the pasture, she was able to lick her back with her long, rough tongue whenever she pleased; and sometimes she would even get some friend to do it for her. But you may be sure she never sought such a favor of the red cow, nor the brown one, either. Naturally they could scarcely have refused, had their aunt asked them.
But the Muley Cow knew well enough that they would make disagreeable remarks afterward. So when she wanted help she usually turned to some cow whose place in the barn was a long way from her own. Somehow her best friends were those that didn't spend the winter near enough to her to notice whenever Johnnie Green gave her something good to eat.

Really it was not strange that Johnnie Green petted the Muley Cow. Farmer Green had given her to Johnnie. She belonged to him.
But Muley Cow never spoke of the matter in just that way.
She preferred to say that Johnnie Green belonged to her.


From Muley Cow Animal Stories to More Bedtime Stories


From Muley Cow Animal Stories to Nursery Rhymes Fun Home
Muley Cow's Animal Stories Collection