The Dove and The Ant
An Ant who in a brook would drink
Fell off the bank. He tried
To swim, and felt his courage sink--
This ocean seemed so wide.
But for a dove who flew above
He would have drowned and died.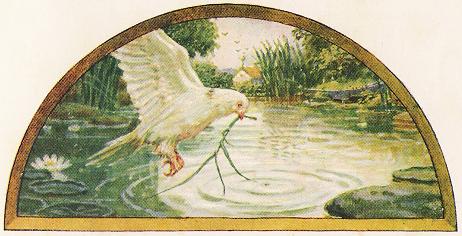 The friendly Dove within her beak
A bridge of grass-stem bore:
On this the Ant, though worn and weak.
Contrived to reach the shore
Said he: "The tact of this kind act
I'll cherish evermore."

Behold! A barefoot wretch went by
With slingshot in his hand.
Said he: "You'll make a pigeon pie
That will be kind of grand."
He meant to murder the gentle bird--
Who did not understand.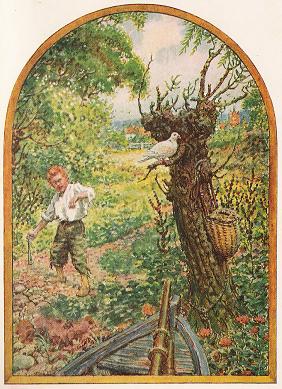 The Ant then stung him on the heel
(So quick to see the sling).
He turned his head, and missed a meal:
The pigeon pie took wing.
And so the Dove lived on to love--
Beloved by everything.


One good deed deserves another.


More Fairy Tales

More Rhyming Stories


THE END
Don't we just love all the old fables and fairy tales?
Have you thought of staging a play using these old fables?
It's so much fun. Kids absolutely love a play.
All of our Fable plays and skits are adapted from some of the very favorites you've read here on the site. Now your little ones can learn by doing. Acting in a play is a very creative way of learning.
Today is a great day for a play! Check out the "learn more" link to see all the story plays in each collection. I know there's something that will strike your fancy.
Purchase with confidence. Paypal makes it easy. Our 30 day money back guarantee makes it stress free. The kids will make it fun!
Enjoy
Our Skits are just as much fun. Just a bit shorter/quicker versions of the longer plays. The "learn more" link is where you'll find all the particulars. Be sure to have a look.
****************************************