COLORED EGGS

"I often wondered why she went across the Sunny Meadow every day," said Ducky Waddles. "It's too long a walk for me!"
"Yes, you wabble too much!" said Henny Penny.
"That's because I've little thin pieces of skin between my toes," answered Ducky Waddles. "My feet are too wide and flat for walking, but they make splendid paddles."
"Come, come," interrupted the Kind Farmer. "Henny Penny hasn't explained why she goes over to the Sunny Meadow to lay her eggs instead of in the nice nests in the Henhouse."
"Because I wanted Little Jack Rabbit to color them for Easter," she answered. "I thought if I laid them near the Old Bramble Patch it would be easier for him."
"Oh, that's the reason?" said the Kind Farmer. "And pray, Mr. Jack Rabbit, how do you color the eggs?"
Oh, dear me! Wasn't the little rabbit embarrassed! He wasn't sure but what he'd better hop back to the Old Bramble Patch. Perhaps, too, he was a little bit afraid of the big Kind Farmer.
"I never colored any eggs," answered the little rabbit in a low voice, "but I've often helped mother color them. She takes a big red rose and rubs it over an egg until it turns red. With a buttercup she makes a yellow one. From the violets by the Bubbling Brook she gets a beautiful purple color, and from the wild roses a lovely pink tint. Just every-day grass gives a dandy green color."
"Ha, ha," laughed the big Kind Farmer, "so that's what the rabbits do on Easter, is it?" and he turned away and went into the Big Red Barn to feed the horses.
"I guess it's time for me to be going," said Little Jack Rabbit. "Mother may worry if I stay away too long!"
"What's your hurry?" said Ducky Waddles.
"Goodby," said Henny Penny.
"Come again," said Cocky Doodle.
"Come very soon," said Turkey Tim.
"Call tomorrow," cried Goosey Lucy.
But the little rabbit was out of hearing by this time, and just as Mr. Merry Sun went down behind the West Hill, he hopped into the Old Bramble Patch.
"Come, wash your hands; supper is ready," said Mrs. Rabbit, as she took the carrot muffins out of the oven and dished the stewed lollypops.
Continue the adventures
Wanna Have Some Fun
Entertaining Your Friends?

Stage Your Own Mad Hatter's Tea Party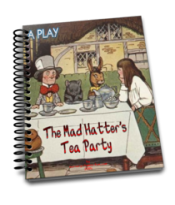 Return to story list
Return to Chapter Books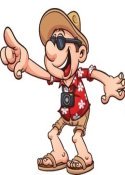 Return to Nursery Rhymes Fun Home