BILLY BUNNY ADVENTURES 17

BILLY BUNNY and the
SQUIRREL INNKEEPER
Wake up! Wake up! It's early morn,
The cock is tooting his little tin horn.
The morning wind is singing a tune
About the roses that bloom in June.
It's time to be up, for the day is here,
And the sky is shining bright and clear.
So out of bed hopped Billy Bunny and Uncle Lucky, and then they wound their watches, for they were so tired the night before that they had gone to bed with them on, as I told you in the last story.
Well, when they got downstairs they found the squirrel who owned "Cuddle Inn" already up and dressed. A most delicious smell of hot coffee and rolls came from the kitchen, so the little rabbits went into the dining room and read the menu card.
And what do you think they ordered? Lettuce leaves, with cream all over them, and carrot candies, with maple syrup, and corn flake muffins and warm milk, and, let me see, oh, yes! oh, yes! apple pie! For Uncle Lucky loved apple pie, and Billy Bunny loved it just as much, although he couldn't eat as many as the old gentleman rabbit could, for the reason that he ate so many candy carrots!
"And now that we are through breakfast," cried little Billy Bunny, "let's go fishing, for I heard a boy say outside the window that the trout in the forest brook were nibbling at pieces of cheese, they were so hungry." Just think of that!
So the kind Squirrel Innkeeper got out two fishing poles and Billy Bunny and Uncle Lucky started off.
Well, by and by they came to the trout stream and commenced to fish, and in a little while they had three big trout. Then they put them in a basket with nice wet leaves and after that they sat down for lunch. And then they fell asleep. And while they were dreaming that a big whale had swallowed both hooks and was pulling them into the water a tramp cat came by and stole the basket of trout.
Yes, sir! As soon as she smelt fish she walked right up and without making a sound lifted up the basket and tiptoed away, and of course when the two little rabbits woke up they couldn't find the basket of fish.
"Well, that's a nice howdy-do," exclaimed Uncle Lucky ruefully, which means even worse than sadly, you know. "What shall we tell the Squirrel Innkeeper? It's his basket, you know, although the fish belonged to us?"
And while they were wondering what to do, an old basket maker came by with a pack of baskets. So Uncle Lucky took out his purse and bought one, and then he and Billy Bunny began again to fish. But, oh, dear me! I guess the trout had all gone away, for they never got a bite, except from a mean old mosquito, who stung dear Uncle Lucky on the little left hind toe.
And in the next story, if the Tailor Bird doesn't sew up the bottoms of my trousers so that I can't get my collar on in the morning, I'll tell you more about Uncle Lucky Lefthindfoot and his little nephew, Billy Bunny.
Continue the Adventure
Start Building
Your Home Library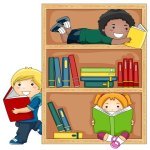 Visit the
Kids Book Shelf
Return to story list
Return to Chapter Books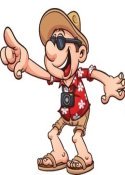 Return to Nursery Rhymes Fun Home