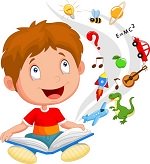 This News is available in html format Online Here.



THE GOOSE WHO WANTED HER OWN WAY
It would be hard to tell which family is the most important among the farmyard people. There is no one animal so wise as Collie, the farmer's dog, and all the rest love him and mind him when he is sent to bring them up from the pasture or to drive them to the water. Still, he does not spend his days in barn or field and only comes with his master or for a visit now and then.
You may remember how the Garter Snake and the old Tree Frog were the leaders in the meadow, and how in the forest all looked up to the Ground Hog. These people were patient and old, and partly because they were old and had had many years in which to think about life, they were very wise. In the farmyard the Oxen were the most patient and the oldest, and it was to them that all the animals went when they were in trouble.
There were also the Horses, fine strong creatures, always helping somebody else and working all day during most of the year. They drew the reaper through the tall grain, and where in the morning had been a field of waving golden wheat, at sunset were bundles or sheaves of gathered grain, and the stubble was ready for the fowls. They were busy people; and sometimes during the winter they liked to remind their neighbors how much they had done.
Then again, there were the Cows, who are the sisters of the Oxen. They are large and there are many of them, yet they are not so wise, and that is easily understood. All that they have to do on the farm is to give milk for the butter-and cheese-making, and for the farmer's children to drink. No farmer could get along without his Cows, but they do not work like their brothers. They have so easy a time that they do not learn much. You know, when people work, they have to think, and when people think enough useful thoughts it makes them wise. That is one of the many reasons why it is so foolish to be lazy.
Truly, it would be hard to say which farmyard family is the most important, but there is no trouble at all in telling which family think themselves the most so. If you ask any Goose, she will tell you that one of their flock is worth five Horses or a dozen Cows. Nobody else would tell you this, and if you should speak of it to the span of Bays, or the Dappled Gray, or even the youngest Colt in the stable, they would answer you only with a hearty Horse laugh. The Cows would smile and reply, "What a Goose she was to say that!"
There has always been a flock of Geese on the farm, and their neighbors are so used to their queer ways that they only smile when the Geese put on airs, and it is a good-natured smile, too. They even feel rather sorry for them when they lose their feathers, although the Nigh Ox once said that if it were not for being plucked once in a while, the Geese would really be too airy to live with.
Perhaps the Nigh Ox was right in what he said, for certainly after they have worn their feathers all winter, they hold their heads higher than ever, and tell what they think and what they would do, and it is well they should be reminded that they work for a living like all their neighbors. The farmer's wife never plucks the Geese until warm weather comes. Then she takes all the soft, short feathers that they have worn through the winter, and this leaves them looking very ragged indeed. There was a time, years ago, when Geese had to give up their long tail-and wing-feathers to be whittled into pens, but these Geese didn't know about that, and there was nobody in the farmyard old enough to remember it and tell them, so they thought they had a pretty hard time in even giving up their breast feathers.
"Sssss!" the Gander used to say, "if the farmer's boys must have feather pillows on which to lay their heads, why do they not grow their own feathers?"
"Humph!" said the Nigh Ox once; "If you must have oats to eat, why don't you grow the oats?" But the Gander was already waddling away and pretended not to hear him.
It is in the winter that the Geese put on the most airs. Then, when the Horses are being harnessed, they say to each other, "Dear me! Wouldn't it be dreadful to work in that way for a living?" And sometimes, when the team is hitched to a post by the farmhouse, they waddle past in a single line with the Gander at the head, and say to the Horses: "Hear you have to take a load of wood to town. It's too bad. Hope you won't get very tired. We are going to the river for a nice cold swim. Good-bye." Then they march off with their heads held high, and as soon as their backs are turned, the Horses look at each other and laugh softly. They know that there is nothing in the world better than good, honest, hard work, no matter of what kind it is.
Every winter the Geese forget about having to be plucked, and every spring they are surprised to lose their feathers. They are plucked four times before fall comes, and these four times come so near together that even they can remember from one to another. You would think that then they would not be so airy, but instead of saying, "Of course we work for our living—why shouldn't we?" they say, "Why, yes, we do let the farmer's wife have some of our feathers when she wants them. We suppose you might call it work to grow feathers for her, still it does not take much of our time, and it is quite different from drawing loads and getting tired as the Horses and Oxen do. Growing feathers is genteel."
They do not remember anything long, and so, when they have made a mistake once, they are likely to make the same mistake over and over again. Then, too, they cannot tell big things from little things, and they are not happy unless they can have their own way all the time. And you know that nobody can be sure of that. It all comes of their not being willing to think hard, and sometimes it makes them a great deal of trouble, as it did on the day when the Gray Goose would not go through the farmyard gate.
This was soon after the Gander and his wife had hatched their brood of seven Goslings, and they were taking them at once to the brook. It was a happy day for all the flock. The Gander and the Mother Goose were glad because their children were safely out of the shell, and because they would no longer have to sit with cramped legs on the nest. Ganders are good fathers, for they cover the eggs half of the time, while the Mother Goose is resting. The other Geese were not only proud of the Goslings, but they were glad to have the Gander and the Mother Goose free to go around with them again. They had missed them very much.
The gate from the farmyard into the meadow stood wide open, and all the Geese except the Gray one followed the Gander through. The Gray Goose tried to go through a small hole in the fence very near the gate. She squeezed her head into it and stretched her neck on the meadow side of the fence, but she could not get any farther, although she pushed until she was dizzy.
"Wait for me," she cried. "Wait for me-ee!"
"Hurry, then," said the Gander.
"I am hurrying," she cried, and she pushed with all her strength, but since the hole in the fence was so small, she did not get any farther than before.
"Go through the gateway," said the Nigh Ox, who was grazing nearby.
"Sssss!" said the Gray Goose stiffly. "I would rather go through here. I have chosen to go this way."
"Oh!" said the Nigh Ox, "excuse me! Do go through there by all means!"
"We are going on," called the Gander; "we would wait, but the Goslings are in a hurry to take their first bath. Come as soon as you can."
The Gray Goose tried harder than ever to go the way that she had chosen, but it only made her so out of breath that she had to lie down and rest. Once she thought she heard somebody laugh, yet when she looked at the Nigh Ox, who was the only person around, he was lying with closed eyes and solemnly chewing his cud, so she decided that she must have been mistaken.
Down by the brook the rest of the flock were cackling merrily, and she could see the seven Goslings swimming with the Geese and the Gander. "Oh," she cried, "how I wish I were with them! I don't see what is the matter with this hole in the fence. The farmer ought to make it bigger."
She pushed and scolded and fussed until her neck was sore and she was too tired to swim if she had a chance, so she sat down to rest. She did remember what the Nigh Ox had said; still, if she couldn't go as she had planned, she wouldn't go at all. She walked into the barn to find a cool and shady place, lowering her head as she stepped over the threshold of the high front door.
"What did you do that for?" twittered a Swallow.
"Because I don't want to hit my head on the top of the doorway;" she replied. "I always do so. All of our flock do so."
"Tittle-ittle-ittle-ee," laughed the Swallow, as she darted away and alighted on the fence by the Nigh Ox. "Why isn't the Gray Goose in swimming with the rest?" asked she.
"Because she can't push her fat body through that hole in the fence," said the Nigh Ox, switching his tail toward it as he spoke.
"Why doesn't she go through the gateway, then?" asked the Swallow.
"Because she says she would rather go the other way, and that if she can't go that way, she won't go at all."
"And she is missing all that fun?" said the Swallow.
"All of it," answered the Nigh Ox, "but then, you know, she is such a Goose!"
THE END

Have you seen our full line of Halloween T Shirts? And Back to School designs too. Oh, and of course, our everyday Tees for the whole family too!

Have you seen our newest T Shirts in the Shoppe? We have quite a few designs in our Shoppe.
You won't want to miss our Halloween Specials. As you see, we have adult t's too.
Original Craft Brew
Witch T Shirt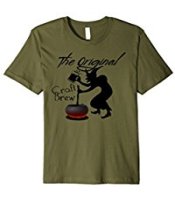 Halloween Tee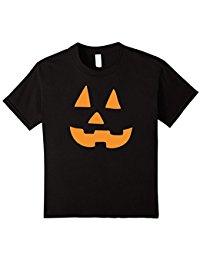 For all who took advantage and downloaded the free play "THE HARE AND THE HEDGEHOG" I hope you are enjoying your production. If you would be so kind, I would so much appreciate if you could take a moment to give it a testimonial and if you would approve of my publishing your testimonial. As you may know testimonials are a great way to tell others what a good experience you have had in purchasing my products. Also as you may know I support my website through the sale of these playscripts, so they are an integral part in my being able to keep my site up and running. I would never print your entire name in any testimonials, so don't worry about your privacy being compromised. If you haven't already taken advantage of our free play offer for your summer fun you can download it here.
Just click HERE FOR A FREE PLAY SCRIPT and download.
It isn't being made available anywhere else for free, I am extending this offer only through this newsletter to my loyal readers. Enjoy.
Thanks Pat


click here to leave a testimonial. Here.
Did you see our newest books? PLUS KINDLE BOOKS TOO! Here.
Did you get your free bonus book? Download Here.
Interested in some truly creative play? Playscripts are the ultimate in creative hands on play. We have a great assortment for all ages and interests. Check them out Here.
Back to Back Issues Page