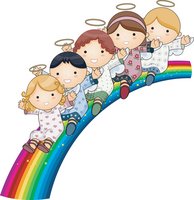 This News is available in html format Online Here.




THE CHEERFUL CRICKET

The Cheerful Cricket had been running around anxiously in the grass all the morning. Mrs. Cricky carried her head down, and when she ran she scuttled, and when she stopped she was absolutely still, except for her eyes, which she turned about brightly in every direction. Mrs. Cricky was looking for food for Chee, Chirk and Chirp. Usually Mr. Cricky brought home the food, but he was a member of the Marsh Grass Vesper Quartette--made up of himself, Miss K. T. Did, Mr. Frisky Frog and Mr. Tree Toad Todson, first cousin to Toadie Todson--and they had all been out very late the night before, so Mrs. Cricky didn't wish to disturb him.

At last Mrs. Cricky found what she wanted, and home she came. Chirp and Chee and Chirk were fed, and then it was time to begin school. Mrs. Cricky always taught her own children. She had rented three little toad-stools, not any bigger than tacks, from Toadie Todson, and these the children used for desks. She often said that she thought round-top desks better than flat, for then the children were not so likely to lean their elbows on them. School began promptly as the sun rose; nine o'clock would have seemed a lazy hour to the little Cricketses. The principal study Mrs. Cricky taught was Cheerfulness, much the same as you are taught reading and writing. She said that the whole duty of a cricket was to be cheerful. After this she gave them some lessons in Fear. These lessons were something like the things your mother tells you, such as, "Don't go near the water," "Fire burns," "Don't put beans in your ears," "Look before you leap;" only Mrs. Cricky told Chirp and Chee and Chirk never to go near one of old Stingy's spider-webs, and when they saw a giant coming with a fish pole in his hand, to hop away as fast as they could. Then, too, she said there was a four-footed animal, called a cat, that caught little crickets to eat them up. After this they all chirruped together as she waved a blade of grass to keep time, then she rang a blue-bell and school was over. She put three little clover-leaf sunbonnets on them and sent them out into the sun to play.

Now Chirp and Chee and Chirk were like other little boys and girls who do not learn their lessons very well. And Chee was careless about listening to his lessons in Fear. They went right out with their three little clover-leaf sunbonnets on and down to the edge of the lake. Chee climbed way up to the top end of a large blade of grass, and was balancing there, much as you like to on a spring-board, when accidentally he fell into the lake. Chirp and Chirk ran to and fro, frightened to death, calling for help. But nobody heard them. In the meantime Chee was kicking in the water and making a great fuss, when a big oak leaf floated by, and Chee scrambled on. If, however, the leaf had not come at just that moment Chee would have drowned. When the leaf floated in shore they all went home and told Mother Cricky. She stopped chirruping for quite a long time and didn't say anything at all. When Mrs. Cricky began to chirrup again she said it served them just right, and she hoped it had taught them all a lesson. Then they all chirruped together, because Chee was safe, and Mrs. Cricky said: "Now let us all sing a little song to show that we are happy." And this is the song they sang:

_Jump, Jump_


_Rather Fast_


Jump, jump everywhere,
How we like the summer air,
Chirp, chirp, chirp in tune,
On the grass beneath the moon.


THE END





Did you see our newest books? PLUS KINDLE BOOKS TOO! Here.

Did you get your free bonus book? Download Here.

Interested in some truly creative play? Playscripts are the ultimate in creative hands on play. We have a great assortment for all ages and interests. Check them out Here.