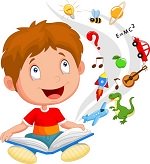 Hello again. Can you believe we're into April already? Yes, sir, and here's your April Newsletter to prove it. We all love kittens, I'm sure. And this month we have a cute little story about a family of Kittens. Enjoy!

We wish you and your family a very Happy Easter.

We're also introducing our new line of coloring books this month. There's a brief description in your story. If you're in the market for a coloring book or two, just click within the pdf and it's take you over to amazon for more info on each book. I love art. Don't you?

Don't forget to check out our online stores. Lots of books, printables, and more.

You can find them here:






See you next month with a brand new story.